EzInsights Dashboards
Create Impactful Insights and Dashboards Within a Short Time
Enable users to make data-driven decisions without the overwhelming need for in-depth expertise in advanced data
EzInsights for Everyone
We go the extra mile by working hand-in-hand with you to deliver exceptional, customizable reporting and data analytics for game-changing insights.
BUSINESS DASHBOARD EXAMPLES FOR EVERY USE CASE
Human Resource Management
Sales Management Dashboard
Marketing Management Dashboard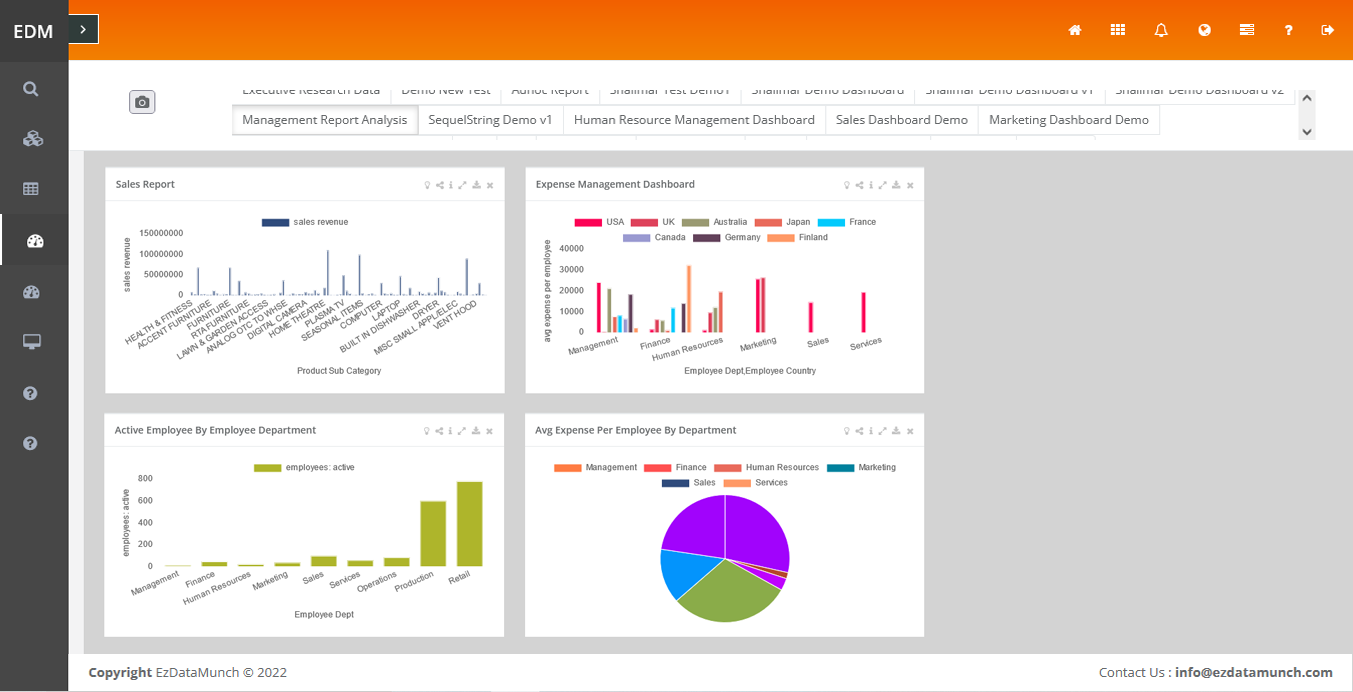 Expense Management Dashboard
Finance Management Dashboard
Manufacturing Analytics Dashboard
Healthcare Analytics Dashboard
Logistics Analytics Dashboard
Retail Analytics Dashboard
Digital Media Analytics Dashboard
Google Analytics Dashboard
Make intelligent business decisions with EzInsights
EzInsights Platform empowers organizations from across industries and across the globe. With actionable insights and a clear view of shifts in consumer demands and market conditions, businesses can make better, faster decisions with improved outcomes.
Unlock the power of your data
EzInsights provides an enterprise platform that includes the integrations, KPIs and analytics as well as the industry expertise and concierge service your team needs to see faster ROI and make better business decisions.
Benefits of Ezlnsights – Smart Search Driven Analytics
Save time and money
Instance analysis using powerful In-memory engine
Load personal data, business data or any data to analyse within seconds using Search text
Build beautiful dashboards and share with anyone – within or outside the organization
Predictive and Statistical analysis with simple text search
Higher User Adaption
Expose existing Qlik data models / Applications for search
Better Master data management
Use Master library across all application